I've been meaning to write a few book reviews for a while now. There are a couple of websites (Shelfari and GoodReads, to name a couple) that people have invited me to join, but I haven't gotten around to posting my book lists on either of those yet. It's not that I don't want to share book recommendations, I'm just managing so many other things right now that adding another website to the list seems daunting. I'm positive that it's easier than I am making it out to be! One of these days...
In the meantime, you'll have to suffice with a couple of reviews right here on the good ol' blog. :) Since I know that some of the people who read this blog are a little more discriminating about content than I am, I decided to add some content warnings in small print below the reviews.
Nineteen Minutes, by Jodi Picoult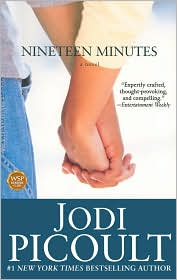 This book, about a high school shooting, was pretty good-- fast-paced, interesting, with a few little twists. Perhaps it's because I've read Jodi Picoult before, or perhaps I'm a genius (or both!), but I did guess the surprise twist at the end within the first few chapters. The story itself is very sad, and Picoult takes you through the shooter's life, where all of the bad memories and disappointments finally lead up to the shooting. There were a few scenarios that felt a little contrived, and I didn't feel very hopeful at the end, but overall, it was a good read. If you haven't read Picoult before, I'd recommend
My Sister's Keeper
first.
Mild sex, Language, Adult themes
The Kite Runner, by Khaled Hosseini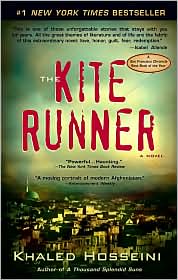 Another sad story, but I would say that this book was excellent, rather than just good. The writing is incredible and raw, and although the story of an Afghani boy and his friend is difficult to read in parts, it is an excellently crafted story. I found myself thinking a lot about prejudices, about the things we do to protect ourselves, sometimes at the cost of others, and ultimately, about forgiveness. I definitely recommend this book and I'm excited to read another Hosseini novel.
Adult themes, violence
Water for Elephants, by Sara Gruen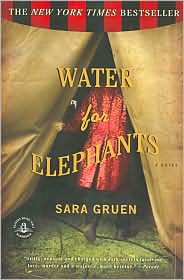 Those crazy circus freaks! Really, I liked this book. It was quick and interesting, and I found the main character likable and genuine. Some of the things that went on in the depression-era circus in this story are kind of scary, but definitely entertaining. I don't know that this book caused any serious contemplation, but it was a fun read.
Mild Sex, Language, Mild Violence